Galaxy Navigator 3D is a Windows app that lets you navigate the stars of our galaxy (the Milky Way!) and get a good feel for just how big it is! The app uses data files released by ESA, the European Space Agency, in September 2016.  The app shows more than 2 million stars, positioned with unprecedented accuracy.
Galaxy Navigator 3D
DOWNLOAD for Windows:
Also known as the Christmas release!
Fixed: The install file is now signed with our

verified digital certificate

!
The certificate helps antivirus software trust your download! (Mail us otherwise!!)

Galaxy Navigator 3D – v1.0.1.9 (2 Dec 2016)

Position of TGAS stars was wrong! Fixed
Unlocked mouse pointer. Mouse pointer position aims your direction when you move
Apparent magnitude continuously recalculated for ALL stars
Known problems:

With a slow connection, the initial download of star database may timeout
Fullscreen mode has problems on computers with multiple screens
Anti-virus software now warns/blocks, due to installer being an EXE file. Warning is "Domain Reputation – drep", because we are an "unknown" web site 🙁

Galaxy Navigator 3D – v1.0.0.6 (22 Nov 2016)

Directional aiming is done with "locked" mouse pointer
All stars shown using fixed, Earth-bound apparent magnitude
Include necessary Visual Studio Runtime in Installer package (this changes package format to EXE)

Galaxy Navigator 3D – v1.0.0.4 (19 Nov 2016)

Initial release. MSI installer for Windows
How to use Galaxy Navigator 3D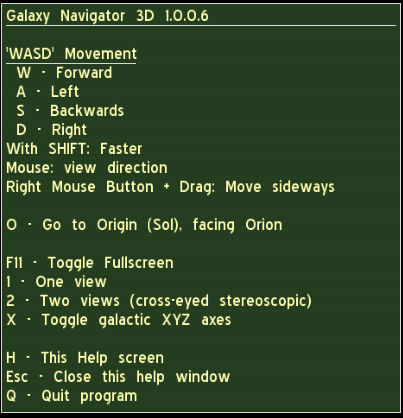 It really is full of stars!
These are example screenshots of running Galaxy Navigator 3D, showing the named stars in our vicinity. Click on them for a full-size view. The first screenshot is in cross-eyed stereo 3D mode.  They are from the screenshots page.
About ESA's Gaia satellite
In September 2016 ESA, the European Space Agency, released a first taster of the data being amassed by its Gaia satellite. The satellite had been collecting data for more than a year, enough to accurately determine the sky positions of 1 billion stars. Because it had been collecting data for only one year, there was not sufficient information to calculate the actual positions in space yet. However, using data from a previous mission (Tycho-2) a subset of the Gaia data was released containing (among other) the precise positions in space of more than 2 million stars. Click on the image below to go to ESA's Gaia page.
Galaxy Navigator 3D icon courtesy of CombineDesign, Noun Project